AKSHI ENGINEERS Manufactures high quality and precise Bar Road Dividing Shears up to 1200 MM CPS for rolling mills.
Features
All internal support systems/parts of machine being hardened & grinded for minimum back lash
Gears and knife holders are designed for minimum inertia to deliver optimum performance.
The casing is Pre-Stressed to prevent seperating of casing parting surfaces on load during the milli seconds when the cut is executed.
Shears are Stop/Start and continuous operating type and driven by the Direct DC Motor Drive. These are controlled through PLC system. Hence very close tolerance of cut length is achieved.
Types of Shears
Crank Shear
:
Start – Stop Shear for dividing large sections.
Flying Shear
:
Start – Stop Shear for dividing sections upto 40MM diameter.
Continuous Shear
:
Continuous shears for dividing bars of Diameter 8MM – 16MM for speed upto 32M/sec.
These Shears are used to cut cooling bed lengths (Surface Temperature around 350C° min.)These Shears are generally installed after Quenching line & before entry to Cooling Bed. We can supply designing, manufacturing, installation and commissioning of the equipment with "turnkey" service.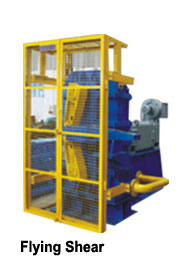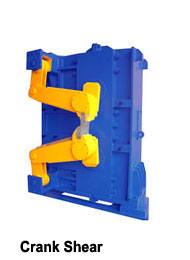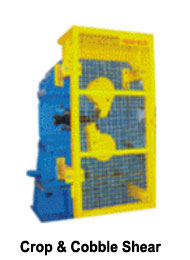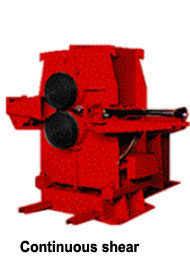 Rotary Shear
Rotary cutting machine is simple and convenient to operate. These cost effective Rotary Shears are used to Crop Font, Tail and as well as to scrap the pre quenched bars during emergency. These Shears are continuous rotating type. Generally these Shears are used to trim Hot Rolled Bars at considerably at lower speed.
Features
The cutter mechanism is simple, compact and easy to maintain.
The working efficiency of the machine is high. The blank can be flipped on the other side while cutting the blank.
The Operation of flip is balance and reliable.
The green body cutting is accurate.
There are two forms of cross-cut transmission. That is, mechanical transmission and hydraulic transmission.
It can be slot milling at the same time when cutting blank. Therefore, the Machine is suitable for sheet metal processing.
Crop & Cobble Shear
The crop and cobble shear is employed in hot rolling mills is to crop front, tail end, further on section cutting just in case of eventualities. These shears area unit typically of start/stop kind and area unit driven either with regulator mounted gas clutch/brake or with direct DC (direct current) motor driven. These shears area unit controlled through PLC (programmable logic control) system and supply terribly shut tolerance of the cut length.
Hot Saws
These Hot Saws are used in hot rolling to cut desired length and as well as top trim Front & Rear End. These shears are capable of cutting section size ranging from 80 to 600mm(Beam, Channel, Angle) and as well as Square, Rounds of 40 to 250mm.
These Hot saws presently are two types: Pendulum swinging type and horizontal shift type.
Cold Saws
Cold cutting saw machine has high section accuracy, no burrs inside and outside, smooth cutting surface, no need for follow-up treatment such as flat-headed chamfering, reduce the processing intensity of the next process, save time and raw materials, work piece will not change performance because of high temperature caused by friction, improve cutting efficiency, no spark, no noise, environmental protection and energy saving.
Features
Both open & closed types are available
Extremely precise cutting
Quick change device for blade replacement
Handles quenched rebar and high alloy steels
Available with start stop drive
Advantage
Low Noise and high Safety
Best performance and high production efficiency
Intelligent operation
Low maintenance costs
Flying Shear, Flying Shear Manufacturers, Flying Shear Manufacturers in India, Bar Dividing Shear, Bar Dividing Shear Manufacturers, Bar Dividing Shear Manufacturers in India, Continuous Shear, Continuous Shear Manufacturers, Continuous Shear Manufacturers in India, Crop cum Cobble Shear, Crop cum Cobble Shear Manufacturers, Crop cum Cobble Shear Manufacturers in India,