CNC Roll Turning (Heavy Duty) Lathe Machine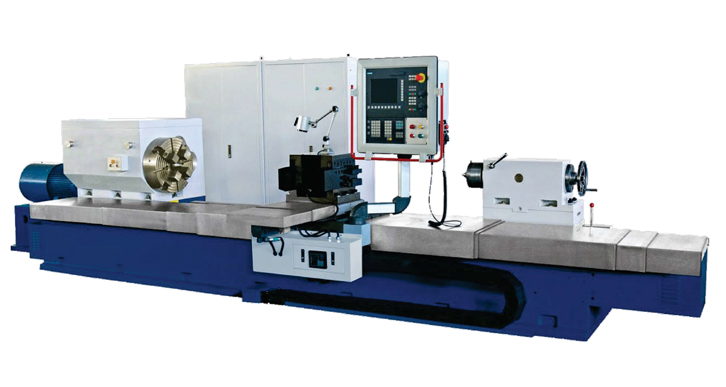 CNC Roll Turning Lathe Machine Manufacturers in India is one of the top replacement solution for Manual Lathes used for Roll machining and pass cutting. CNC Roll Turning Lathes Machine offer a huge improvement in productivity, reduce man-power, eliminate manual errors and reduce the space required for turning operation in machining the Rolls. We make sure our products will be stand on client's scale.
Features
High Torque capacity at Head stock.
Zero backlash with precision ball screw.
4 Guide way Lathe Bed.
Telescopic cover to protect guideways.
Machining achieved with Siemens CNC System.
Remote diagnostics.
Fully Automatic Notching From First Grove to Last Groove
Advantages
Faster machining.
Ideal for machining split pass designs.
Effortless replaces more than 5 manual lathes.
Suitable for composite and carbide rolls.
Reduces the operation time and operator time.
Technical Specifications
Sr.

Parameters

WCK600


WCK600A


WCK700


WCK700A


1

Max. Roll Diameter (mm)

600
600
700
700

2

Max. Roll Length (mm)

2500
3000
2500
3500

3

Max. Roll Weight (k.g.)

3500
3500
7000
7000

4

Guide Way (One Piece)

4-Guide Ways

5

Width of Bed (mm) Appx.

890
890
1150
1150

6

4-Jaw Chuck Spindle Dia. (mm)

500
500
650
650

7

Spindle Diameter (mm)

210
210
300
300

8

Range of Processing (mm)

150~500
150~500
300~700
300~700

9

Spindle Speed Step

Stepless Speed Regulation

10

Spindle Speed Range r/min

2~300
2~300
2~300
2~300

11

Spindle Motor Power (Kw)

37
37
45
45

12

X-Axis Feed Motor Torque (mm)

16
16
27
27

13

Z-Axis Feed Motor Torque (mm)

27
27
36
36

14

Control System

SIMENES 828D

15

Servo Motor

SIMENES